All news
VNIIFTRI specialists improve methods for measuring metals in substances
29 March 2021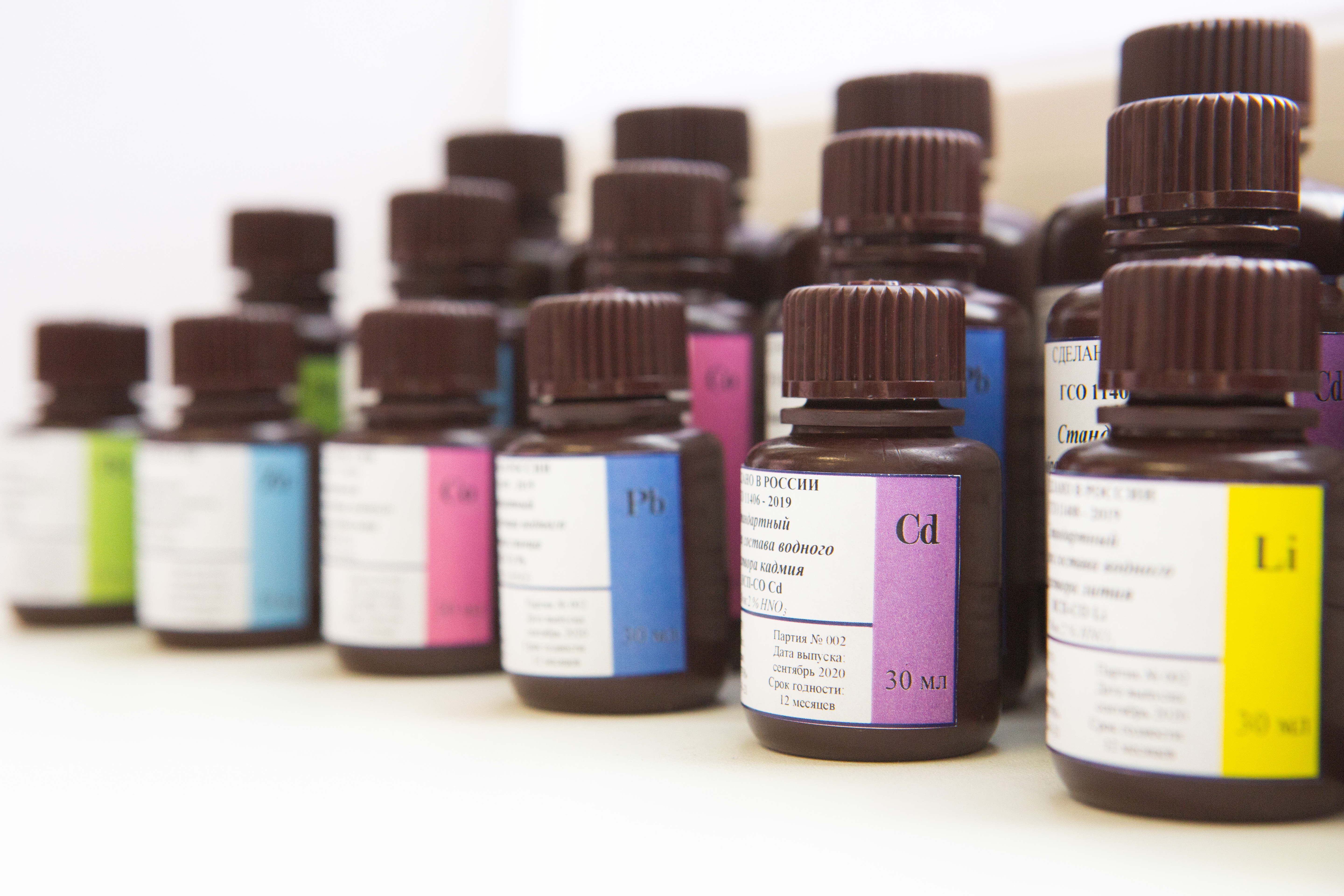 Moscow Region, March 29, 2021 – VNIIFTRI specialists have developed a multi-element reference material for the composition of an aqueous solution of metals cadmium, lead, lithium, zinc, cobalt and barium (ICP-RM Multi), which is designed for determining their contents in various materials. The new RM will find its application in conducting analyses in various fields ranging from the food industry to forensic sciences.
"The creation of the multi-element RM for an aqueous solution of metals is a continuation of the work undertaken by VNIIFTRI scientists to develop RMs for laboratory analysis by inductively coupled plasma methods (ICP) *. Earlier, they presented four types of RMs for the composition of aqueous solutions of lithium, cobalt, cadmium and lead. The new RM will allow six elements to be simultaneously measured in the substance being analyzed while also minimizing the random component of a measurement error when preparing working and calibration solutions," said Vladimir Dobrovolskiy, head of research department of physicochemical and electrical measurements.
In terms of its metrological characteristics, the developed ICP-RM Multi will become the first domestically-made multi-element RM and will ensure metrological traceability of measurement results from the State Primary Standard GET 217-2018**. The multi-element capability of the new RM will make measurement more convenient and rapid as well as minimizing the possibility of accidental human error. Now VNIIFTRI is conducting stability tests on the RM, required for type approval.
The multi-element RM will find application in the food industry – to control the contents of various components in foodstuffs and beverages; in environmental protection – to analyze metals in various objects in the environment; in forensic sciences – to perform analysis of microelements and toxic elements in biological substrates (hair, nails, epithelium, blood, urine and muscles), etc.
The new RM will be presented at VNIIFTRI' stand at the 19th International Exhibition for Laboratory Equipment and Chemical Reagents "Analytika Expo 2021" to be held at the International Exhibition Center "Crocus Expo" in Moscow on April 13 – 16, 2021.
* Inductively coupled plasma mass spectrometry (ICP-MS) is an analytical method characterized by high sensitivity and capable of determining a number of metals and some non-metals at concentrations up to 10−10%, i.e. one particle out of 1012. And inductively coupled plasma optical emission spectrometry (ICP-OES) is an analytical method designed for determining small contents of some elements in various types of sample.
** GET 217-2018: State Primary Standard of Unit of Mass Fraction and Unit of Mass (Molar) Concentration of Inorganic Components in Aqueous Solutions Based on Gravimetric and Spectral Methods
Спасибо! Заказ успешно отправлен.
Вверх!