All news
International Forum and Exhibition «MetrolExpo 2021» opens
08 September 2021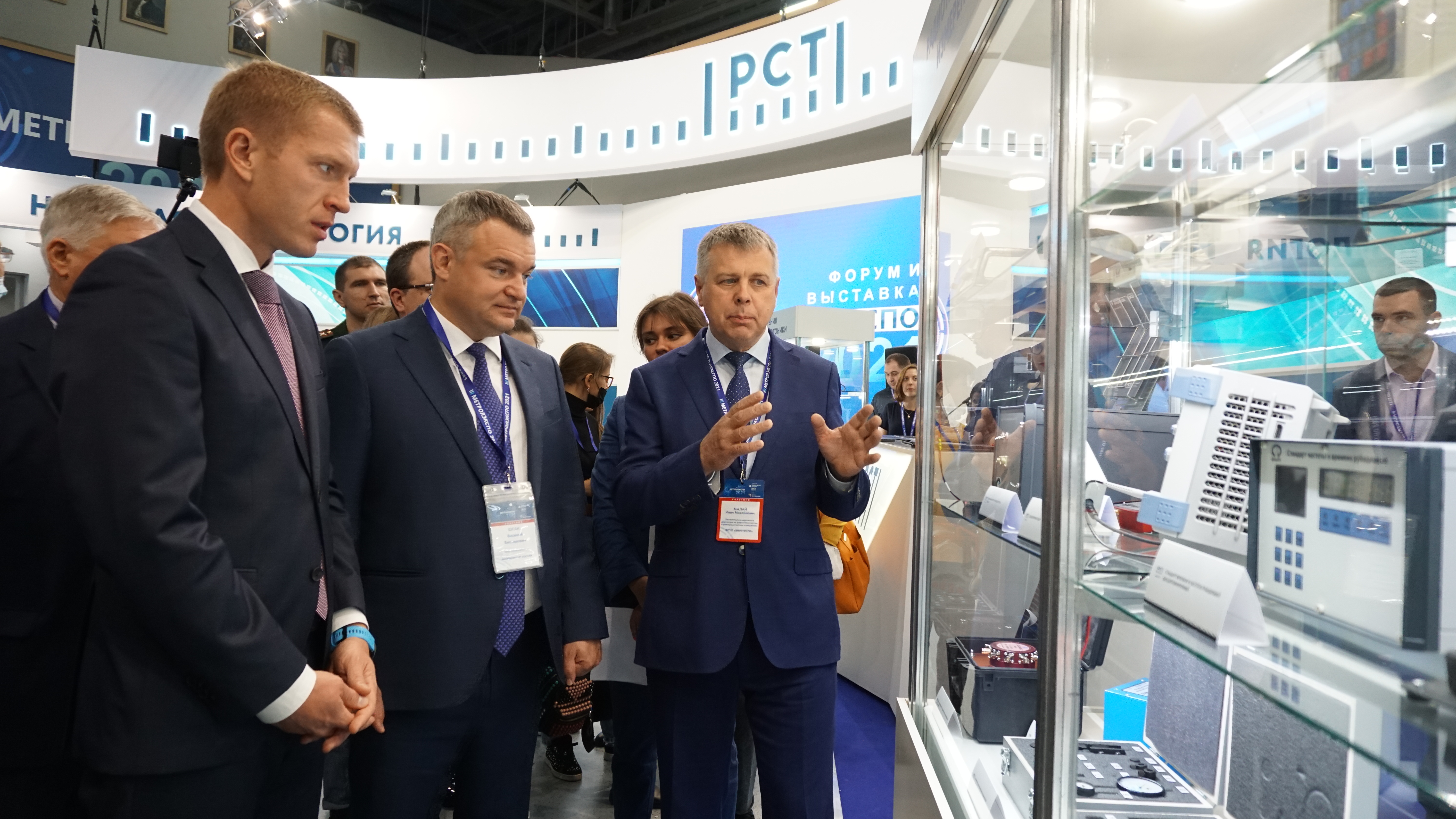 Moscow Region, September 08 – The international forum and exhibition "MetrolExpo 2021" has opened. VNIIFTRI has presented its latest products for metrology areas including thermophysical and temperature measurements, radio engineering measurements, time and frequency measurements, physicochemical measurements, and measurements in photonics.
"Metrology is the basis for all scientific discoveries and constantly developing technologies, which place increasing demands for measurement accuracy and reliability. Owing to the development of the domestic precision instrument engineering and new directions in metrology, advances in promising high technology fields such as the newest navigation systems, unmanned transport, new generation networks, artificial intelligence systems and others, are now taking place. Participation in such a large-scale event as MetrolExpo is an opportunity to learn firsthand about new trends in metrology, identify potential areas for cooperation, share experience with counterparts, and present one's own solutions and products," said General Director Sergey Donchenko, commenting on VNIIFTRI's participation in the exhibition.
At MetrolExpo 2021, a SEVER 4 humid gas generator, recently developed by scientists at VNIIFTRI's East-Siberian Branch, was presented for the first time. The device will be used as a working standard for calibration of equipment used in areas requiring close attention to the humidity value: oil and gas, chemical, nuclear, pharmaceutical and other industries; thermal power stations; and industrial and scientific research.
For radio engineering measurements, VNIIFTRI specialists presented a prototype of a thermistor wattmeter, an instrument for measuring the power of electromagnetic oscillations in the frequency range 0.02 to 78.33 GHz. The new device will allow the outdated types of wattmeter that do not meet the modern requirements for accuracy and reliability to be replaced in the Russian market. It is intended for calibration and verification of instruments used in civil aviation (radar), satellite communications, and in the manufacture and adjustment of microwave generators.
The stand devoted to physicochemical measurements features reference materials for glucose and glucose in powdered milk, which are intended to be used in food quality control for calibrating analytical measuring instruments.
Other reference materials presented include ones for the composition of aqueous solutions of metals: lithium, cobalt, cadmium, and lead; and a multi-element reference material. These RMs will find application in the food industry to control the content of various components in foodstuffs and beverages; in environmental protection to analyze metal content in various components of the natural environment; in forensics to perform analysis of microelements and toxic elements in biological substrates (hair, nails, epithelium, blood, urine and muscles), and in other fields.
These and other means of measurement produced by VNIIFTRI will be on display at the exhibition stands of Rosstandart through September 10. The forum venue is VDNKh, Pavilion 57.
Спасибо! Заказ успешно отправлен.
Вверх!