All news
Young scientists of VNIIFTRI are awarded medals of the Russian Academy of Sciences
03 June 2021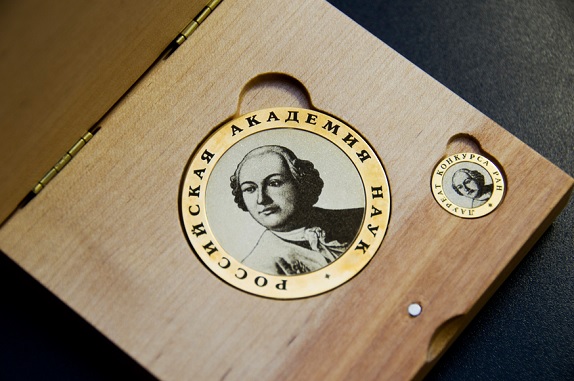 MOSCOW REGION June 03, 2021 - At a meeting of the Presidium of the Russian Academy of Sciences (RAS) on May 25, 2021, the results of the competition for the RAS medals for young scientists were summed up. Medals were awarded to a team of young scientists of the Main Metrological Center of the State Service of Time and Frequency (MMC SSTF) for the development of optical frequency reference on cold strontium atoms.
"VNIIFTRI today is one of the largest metrological institutes in Russia. Our young scientists have access to unique science technologies and test facilities, and are supported and mentored by senior colleagues. We are proud that our young people are winning more and more awards and are scaling new heights in science," said Sergei Donchenko, General Director of VNIIFTRI.
The RAS medals were awarded to Gleb Belotelov and Artem Gribov for their work in the direction of "development or creation of devices, techniques, technologies and new scientific and technical products of scientific and applied value."
"The continuous growth of accuracy requirements in today's world requires fresh and innovative ideas. MMC SSTF is actively developing largely due to the constant influx of young talented employees who are not afraid to offer and implement their own solutions, turning them into the institute's know-how. The technologies created by our young scientists in the development of the optical frequency reference will improve the accuracy characteristics of the State Primary Standard of Time and Frequency Units, expand the possibilities of new studies of the Earth's gravitational field, improve the reliability and accuracy of navigation solutions of the GLONASS system, etc.", noticed the head of the MMC SSTF Igor Blinov.
The competition for the RAS medals with prizes for young scientists is held annually in order to identify and support talented young researchers, promote the professional growth of scientific youth, and encourage the creative activity of young Russian scientists and students of higher educational institutions in scientific research.
The works performed by scientific and other young employees under the age of 33 at the time of submitting the work for the competition are put forward.
Scientific works (work cycles), materials on the development or creation of instruments for scientific research, methods and technologies contributing to the scientific knowledge development, distinguished by originality in the formulation and solution of scientific problems, are nominated for the competition. Also nominated are works performed by scientific and other young employees under the age of 33 at the moment of work submission to the competition.
Спасибо! Заказ успешно отправлен.
Вверх!