All news
VNIIFTRI to present its products at the international industrial trade fair "INNOPROM" in Uzbekistan
02 April 2021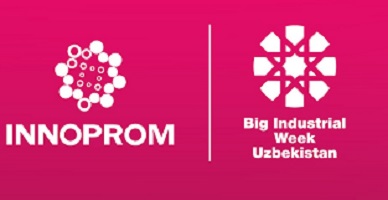 Moscow Region, April 2, 2021 – VNIIFTRI will present its products in the main areas of its activity as part of Rosstandart's stand at the international industrial trade fair "INNOPROM. Big Industrial Week in Uzbekistan" on April 5 – 7, 2021.
"Being one of Russia's largest metrological centers, VNIIFTRI is a regular participant in major international events. Participation in such a large-scale event as INNOPROM will allow us to demonstrate the institute's capabilities in the field of metrology not only to our colleagues, researchers, but also to representatives of governmental bodies, various branches of the economy, and business. Such events facilitate the development of international relations, progress in scientific cooperation, and the transfer of technologies and ideas," said Sergey Donchenko, General Director of VNIIFTRI.
VNIIFTRI is directly involved in a modernization project for Uzbekistan's standards base. Work is being carried in the following key areas of cooperation: creation of a new time and frequency standard in Uzbekistan, metrology of physico-chemical measurements, and metrology of radio measurements.
"The main theme of the trade fair "INNOPROM. Big Industrial Week in Uzbekistan" is Smart Industry. VNIIFTRI produces about 90 devices and the product range is growing year by year. Our products are highly sought after on the domestic as well international markets. Participation in the trade fair will allow us to demonstrate how our products can be integrated into real technological processes, and to emphasize the importance of the use of high-precision devices in production systems for progress in various branches of the economy," said Alexandr Panin, Deputy General Director for Special Projects and Production of Measuring Instruments.
At the INNOPROM trade fair, VNIIFTRI will present a complex display of its time and frequency standards, including the newest ultra-miniature rubidium frequency standard. Developed and built by VNIIFTRI specialists in 2019, the standard is intended for the development of unmanned vehicles, the synchronization of equipment and data transfer in high-speed computer networks, which is particularly important for financial transactions in the banking sphere and for telecommunication systems. Also on display will be a scale model of a mobile laboratory for comparison of users' time scales with a national time scale, with an error of not more than 0.5 ns.
In the area of metrology of physico-chemical measurements, VNIIFTRI will present its newly developed products – reference materials for aqueous solutions of metals – as well as traditional ones such as reference materials for preparation of buffer solutions, and working pH standards of Class 2, intended for verification and calibration of pH meters at research institutions and analytical laboratories.
The reference materials displayed at the stand will also include VNIIFTRI products in the area of metrology of ionizing radiations: radionuclide sources of photon radiation for metrological purposes. These measuring means are used for calibration of the energy scale and sensitivity of high-precision installations, and as monitoring sources in measuring instruments.
Held annually in Yekaterinburg, the international industrial trade fair "INNOPROM" is a main industrial, trade and export forum in Russia. In 2020, the organizers decided to expand its geography and to hold similar events, besides Russia, in Indonesia, Egypt and Uzbekistan. The trade fair "INNOPROM. Big Industrial Week in Uzbekistan" is to become the first such event.
According to preliminary data, about 1,100 Russian participants will arrive at the trade fair in Tashkent. The official organizers are the Ministry of Industry and Trade of the Russian Federation and the Ministry of Investments and Foreign Trade of the Republic of Uzbekistan.
Спасибо! Заказ успешно отправлен.
Вверх!