All news
A young VNIIFTRI researcher has become a winner of the competition "The Best Young Metrologist of COOMET" 2021
26 April 2021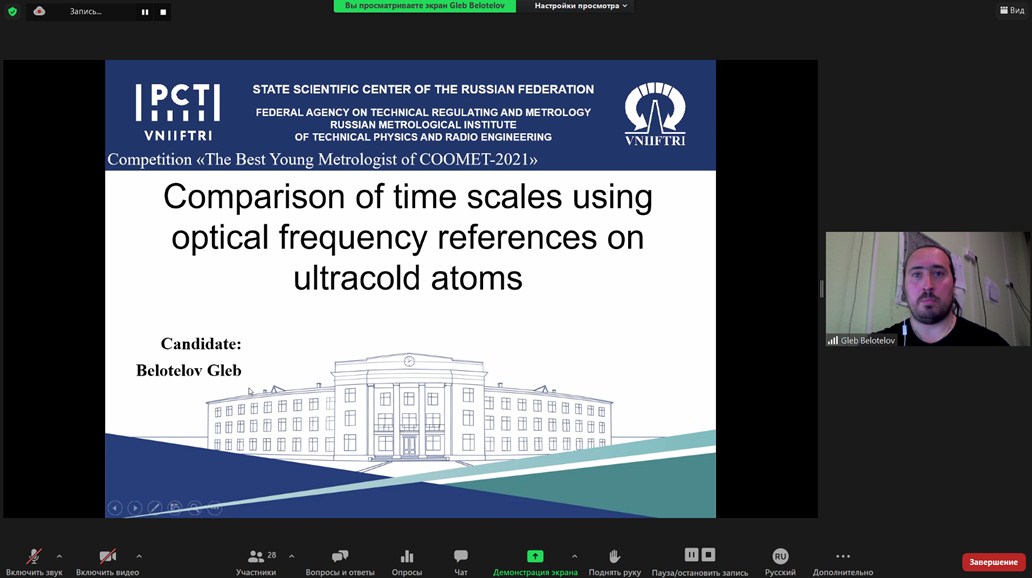 Moscow Region, April 26, 2021 – Gleb Belotelov, a junior researcher at the optical frequency standards development laboratory of the Main Metrological Center of the State Service for Time and Frequency, has won second place in the IX international competition "The Best Young Metrologist of COOMET" 2021.
His work "Comparison of time scales using optical frequency standards based on ultra-cold atoms", which was presented at the competition on April 22, was highly appraised by the competition's Scientific Committee comprised of representatives from international (BIPM, BIML) and regional (COOMET, AFRIMETS, EURAMET, SIM) metrological organizations.
"When deciding on the theme, I was guided by the prospects for the use of mobile optical frequency standards in comparing time scales. It was very interesting to speak before the international scientific committee, presenting my research results. I think participation in such competitions raises interest in cooperation with our institute and demonstrates the high competence and potential of its employees," said Gleb Belotelov, junior researcher at the optical frequency standards development laboratory and a winner of the competition.
Other participants from VNIIFTRI were Mamikon Gavalyan with a report titled "Measurement of the deviation of temperature determined by the ITS-90 scale from thermodynamic temperature measured by acoustic gas thermometry at VNIIFTRI", and Sergei Fyodorov with a report titled "Development of a method and means for transferring the unit of absorbed dose of neutron radiation in tissue-equivalent material for installations used in radiation therapy".
For the competition in 2021, a total of 18 works were submitted from different regional metrological organizations and countries: COOMET (Belarus, Kazakhstan, Germany, Russia, Ukraine), EURAMET (Italy) and SIM (Columbia, Mexico).
The works were evaluated against five criteria grouped into two categories: the innovative character of a work (topicality and scientific novelty, implementation and use of the results in practice) and the quality of presentation of a report.
The Scientific Committee thanked the participants for their interesting works and reports and wished them success with implementation of new ideas in their professional lives in future.
Спасибо! Заказ успешно отправлен.
Вверх!